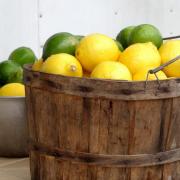 Following are the markets that I know of. They are not in any particular order. If any info is incorrect please send me an e-mail.  If you know of others I do not have listed I would appreciate that info as well.
Be sure to ask if the farmer grows locally and what kind of farming practices they use.  Do not assume because they are at a farmers market it is organic or for that matter even local.
Allen Street Farmers Market
http://www.allenneighborhoodcenter.org/farm_market.html 
Wednesdays, 2:30 to 7:30 through Oct 14th
Locally grown, raised, and prepared foods. 20 + vendors. Live music. EBT-friendly. Located at 1619 E. Kalamazoo, Lansing, MI 48912, on the corner of Allen and E. Kalamazoo.
The Allen Street Farmers Market operates year-round! We will move back inside, into the Allen Market Place facility, for the colder months on October 21, 2015.
Meridian Township Farmers' Market
http://www.localharvest.org/farmers-markets/M13548
5151 Marsh Rd, Okemos
Saturdays 8am - 2pm May-October
Wednesdays 8am - 2pm July-October
Thanksgiving Market - the day before Thanksgiving 10am - 2pm
MSU Student Organic Farm
All organic produce at a stand on campus
Thursday 11AM to 5:30PM through November
Farm Ln in front of the MSU Auditorium
Holt Farmers' Market
http://www.holtfarmersmarket.org/
Saturday Markets  May 16th through November 28th from 9:00 a.m. to 3:00 p.m.
Thursday Markets July 9th through September 24th from 4:00 p.m. to 7:00 p.m.
2150 Cedar Street, Holt, in the old fire station building
Williamston Farmers' Market
http://www.williamston-mi.us/farmmarket.html
May 20 - October ??, 2010
Every Thursday 2pm - 7pm
161 E. Grand River
Next to City Hall
There will be many vendors and farmers attending! There will be fresh fruits and veggies, chicken, eggs, hanging baskets, baked goods, crafts, clothes, handmade jewelry, Tupperware, soaps and lotions, All natural laundry detergent and cleaners, and so much more! We will have live music from 6-7pm performed by Tania Hayward, on opening day.
Become a friend of the Williamston Farmers Market on Facebook!
Lansing City Market
http://www.lansingcitymarket.com/
Open all year
9:00 am - 6:00 pm  Tuesdays, Thursdays, Fridays
8:00 am - 5:00 pm  Saturdays
333 N. Cedar St. Lansing, MI  48912 Corner of Shiawassee 
Grand Ledge Farmer's Market
http://www.glfarm.org/index.html
Every Saturday (June 13 – October 24)
9 a.m. – 1 p.m.
213 S. Bridge St. in Downtown Grand Ledge
Maypole Park (across from Sweet Linda's downtown)
Mason Farmers Market
Jul 12-Sep 27, Sat 8a-noon;
Project FRESH accepted. 
352 A. West Columbia, Downtown Mason 517-676-4175 (another web site said on Maple between Jefferson and Barnes)
[Lansing] Old Town Commercial Association's Farmers Market
http://www.iloveoldtown.org/
2009 dates: Jun 7, Jul 5, Aug 2, Sep 6,  Oct 4, 1p-5p
203 E Grand River Ave, at Turner St in Lansing's Old Town District, Lansing; 517-485-4293
[Lansing] Southside Community Coalition Farmers Market
http://www.southsidecommunitycoalition.org/
Jun 17-Oct 28, Tu 2:30p-6:30p
Between Martin Luther King and Grove rd, West Holmes Rd, Lansing; 517-394-6846
http://www.dewittdda.org/FarmersMarket.aspx 
Tuesday from 4pm to 7pm
Downtown DeWitt North of the intersection of Main and Bridge Streets
Shoppers and enthusiasts will be able to browse and shop the offerings from local vendors and producers from the Mid-Michigan area.
Our Farmers Market offers a wide variety of seasonal fresh fruits and vegetables, delicious baked goods, gourmet-type specialty foods and sauces, honey, maple syrups, jellies, poultry, beef, pork, rabbit, flavorful herbs and farm fresh eggs.  Seasonal garden plants and plant starts will be available, as well as hand –crafted items and more.  Several vendors offer ready-made foods, and there is LIVE weekly music.  The first Tuesday of every month is Kid's Activity Day at the Market, and there will be several special events at the Market throughout the season.
The Market is located in Downtown DeWitt, just North of the intersection at Bridge and Main Streets.  The Market operates RAIN OR SHINE June-mid-October, from 4-7pm.
Laingsburg, MI Farmers' Market
could not find a website to confirm this information
every Saturday from June 6 thru Oct 3
on Roosevelt Row
East Lansing Farmers Market
http://www.cityofeastlansing.com/farmersmarket
Sundays July 12 - October 25, 2009 10 a.m. - 3 p.m.
Downtown East Lansing @ Valley Court Park (201 Hillside Court)